Where we are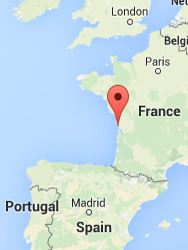 The gîtes at Les Lavandes are situated in quiet countryside between the villages of Etaules and Les Mathes surrounded by rolling farmland, vineyards and sunflower fields, close to the local seaside resort of La Palmyre and the Atlantic Beaches. Etaules is traditional in its appearance and you can find all the usual amenities of a typical French village including boulangerie, charcuterie, pharmacy, post office and a small minimarket. There is a large supermarket a 5 minute drive from Les Lavandes.
After a short drive, or cycle ride, you will discover the wide sandy beaches of La Grande Cote, La Palmyre and La Cote Sauvage bordered by sand dunes and pine forests with well-marked pedestrian paths and cycle tracks. The coastline is watched over by the Phare de la Coubre lighthouse more than 60m high with wonderful views of the surrounding area. From St Palais-sur-Mer to Mescher-sur-Gironde there are a number of small, sheltered sandy coves.
To the north is the River Seudre which is home to the largest oyster farming area in Europe. It's a fascinating fusion of land and water with oyster beds occupying the same grid pattern as the salt marshes once found here with tiny ports, a shoreline lined by brightly coloured huts and flat bottomed boats coming and going with the rhythm of the tides.
The Gironde estuary to the south is a natural conservation area and in contrast to the flat lands of the River Seudre is characterised by gently rolling hills culminating in cliffs overlooking the river. The agricultural land of crops and vineyards is the home of Pineau, the local aperitif, (cognac blended with grape juice) which is a perfect accompaniment to the renowned local fish and seafood cuisine.